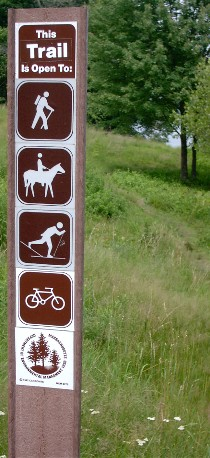 Event Calendar

Unless otherwise noted, all Trails Club events are free and open to the public, and leashed dogs are welcome. And in case you're wondering (or worried), the pace of our walks is relaxed (like everything else about the Club). We go out to explore and enjoy the trails, and aren't trying to set speed records for completing the routes. We stop from time to time to point out interesting things, or to let folks catch up, or catch our breath, and we make sure no one falls behind. There's more information about our walks on the FAQ page.



Walks & Gatherings




Saturday, April 1, 9AM

: Monthly trail workday. Annual Center Trail drainage ditch cleanup.



Saturday, April 8, 8:30AM-noon

: Hopkinton Yellow Bag Day. Spring cleaning for the roads of Hopkinton, tidying up the Town before the world arrives for the Boston Marathon. Meet at the Town Common at 8:30 to pick up a yellow trash bag, then head out to pick up trash. The DPW will remove the bags from the roadsides the following Monday.



Wednesday, April 12, 6:30PM

: Monthly meeting



Saturday, April 22, 10AM

: River Trail walk, MA Div. of Fisheries & Wildlife Sudbury River Access property. This walk follows a trail along the banks of the Sudbury River. Meet at the parking area on Aikens Road (off Route 85, past the State park entrance, just before the Sudbury River bridge). Look for parked cars and the Trails Club banner.



Wednesday, April 26, 4-6PM (Drop In)

: Trail Explorers Event at Hopkinton Public Library. Sponsored by the Trails Coordination & Management Committee. For parents and kids up to age 12 to find out about all the fun kids can have on Hopkinton's trails. There will be activities and prizes, plus information about geocaching, mountain biking, trail running, building stuff in the woods, and more. Talk with groups including the Trails Club, Hopkinton Area Land Trust, Upper Charles Trails Committee, Parks and Rec, New England Mountain Biking Association, YMCA, Wildwood Learning Center, Mass. Audubon, and the sponsoring organization, the Hopkinton Trail Coordination and Management Committee.



Saturday, May 6

9AM

: Monthly trail workday. Invasives removal at the Hughes Farm property. Details to follow.

Time TBA

: Hop101 at Hopkinton High School. The Trails Club will be at this Town-sponsored event, which promotes resources and organizations available to residents.



Sunday, May 21, 1PM

: Whistling Cave walk, Upton State Forest. Meet at the parking pulloffs on Pond Street at the southern end of Lake Whitehall. More details to follow.

Hopkinton town trail committee meetings




Wednesday, March 15, 6:30PM

: Upper Charles Trail Committee

Wednesday, March 29, 7:30PM

: Trails Coordination & Management Committee

Wednesday, April 19, 6:30PM

: Upper Charles Trail Committee

Visit the Hopkinton town website and scroll down to the Events Calendar for meeting locations. Click the "more details" link for the remote link and agenda (may not be available until close to the meeting date). Upper Charles Trail Committee meetings are broadcast on HCAM TV and HCAM's YouTube channel.



Other

Other local organizations have interesting trail-related activities. Contact the hosting organization with any questions.