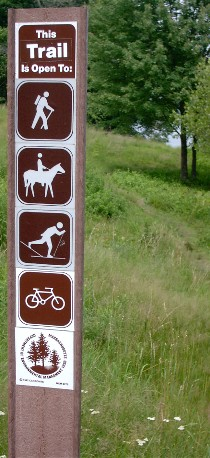 Event Calendar

Unless otherwise noted, all Trails Club events are free and open to the public.

By the way... In case you're wondering (or worried), the pace of our walks is relaxed (like everything else about the Club). We go out to explore and enjoy the trails, and aren't trying to set speed records for completing the routes. We stop from time to time to point out interesting things, or to let folks catch up, or catch our breath, and we make sure no one falls behind.


Wednesday, December 13, 7PM

: Monthly Club meeting



Saturday, December 16, 10AM

: Legacy Farms North walk. We will start on Legacy Farms North road, at the gas line crossing. We'll explore a recently mowed path down the gas line, then follow old nursery roads through a wooded area with lots of rhododendrons and a woodland trail in Hopkinton State Park. We'll then cross the dam at Hopkinton State Park, loop around the lower beach area, and return using mostly the same trail. If people are interested we might head back toward Hopkinton center along the gas line and head south toward Main Street, crossing into the parcel considered for athletic fields or the proposed Marathon Museum, towards route 135.

There are also a number of other local organizations with interesting trail-related activities. Check them out in the Other Links section on the Links page.