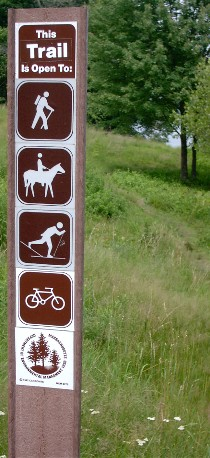 Event Calendar

Unless otherwise noted, all Trails Club events are free and open to the public.

By the way... In case you're wondering (or worried), the pace of our walks is relaxed (like everything else about the Club). We go out to explore and enjoy the trails, and aren't trying to set speed records for completing the routes. We stop from time to time to point out interesting things, or to let folks catch up, or catch our breath, and we make sure no one falls behind.


Saturday, April 21, 9AM-Noon:

Friends of Whitehall Annual Lake Whitehall Spring Cleanup

. Please come to the boat landing/parking lot at Whitehall State Park on Wood St. (rte.135) to sign in and then be assigned an area of the trail or shoreline around the lake to clean up debris and the refuse from the windy winter. The trails have been quite damaged due to the weather. We will also clean up some of the roadsides near the lake. Gloves, trash bags, bug spray, tools and water will be provided. Coffee and refreshments will be available. This is a wonderful opportunity to help your community and to celebrate the beginning of Earth Week.



Sunday, April 22

: Earth Day



Saturday, April 28

: Massachusetts DCR Park Serve Day



Wednesday, May 9, 7PM

: Monthly Club meeting

There are also a number of other local organizations with interesting trail-related activities. Check them out in the Other Links section on the Links page.