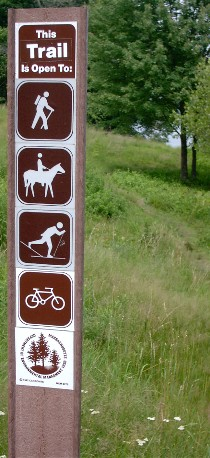 Event Calendar

Unless otherwise noted, all Trails Club events are free and open to the public, and leashed dogs are welcome. And in case you're wondering (or worried), the pace of our walks is relaxed (like everything else about the Club). We go out to explore and enjoy the trails, and aren't trying to set speed records for completing the routes. We stop from time to time to point out interesting things, or to let folks catch up, or catch our breath, and we make sure no one falls behind.



*NEW* COVID-19 requirements for Club gatherings

:


Group size is limited to 12 (we'll split the group if more attend),
Masks are required
Distancing of unrelated folks (anyone who didn't come in the same vehicle) will be practiced.




Walks & Gatherings




Saturday, September 19, 10AM

: Cameron Woods walk. Along with the adjacent Hopkinton Town Forest, this is one of the largest contiguous conservation areas in Hopkinton, containing over 250 acres of wooded land. The area has over four miles of trails that meander past old growth trees, streams, and rock outcroppings. Meet/park at the Sylvan Way trailhead, at the corner of Sylvan Way and Winter Street.



Saturday, October 17, TBA

: College Rock Anniversary walk & Club social. We're combining our two annual events this year. We'll enjoy our return visit to the trails at College Rock, and then head to Cornell's Irish Pub (just a short distance away) for some socializing. Some details are still being finalized, so stay tuned.



Hopkinton town trail committee meetings

(at Hopkinton Town Hall, open to the public)


Town meetings are suspended for now

There are also a number of other local organizations with interesting trail-related activities. Contact the hosting organization with any questions.