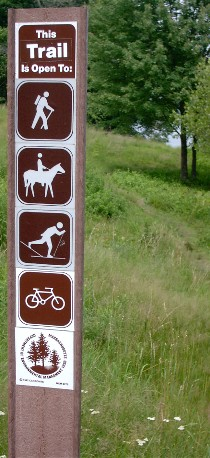 Event Calendar

Unless otherwise noted, all Trails Club events are free and open to the public, and leashed dogs are welcome. And in case you're wondering (or worried), the pace of our walks is relaxed (like everything else about the Club). We go out to explore and enjoy the trails, and aren't trying to set speed records for completing the routes. We stop from time to time to point out interesting things, or to let folks catch up, or catch our breath, and we make sure no one falls behind.



Walks & Gatherings




Saturday, February 5, 9AM:

Monthly Trail Maintenance Day



Wednesday, February 9, 7PM

: Monthly meeting



Saturday, February 12, 1PM

: Fruit Street South tour. Since we last led a walk at Fruit Street, new trails and bridges have been constructed. We'll explore the trails in the southern portion of this property. It's an interesting area, with a variety of forest types, views, and terrain. Expect a walk of about 2 miles (with options for shortcuts back to the start). Park/meet at the far southeast corner of the parking area, past the concession stand.

Hopkinton town trail committee meetings



These meetings are held via Zoom, and the public is invited to watch/participate. Visit the Hopkinton town website and scroll down to the Events Calendar for the Zoom links (the links are usually not available until close to the meeting date).


Wednesday, January 26, 7:30PM

- Trails Coordination & Management Committee

Wednesday, February 2, 5PM

- Upper Charles Trail Committee

Wednesday, February 16, 5PM

- Upper Charles Trail Committee

There are also a number of other local organizations with interesting trail-related activities. Contact the hosting organization with any questions.