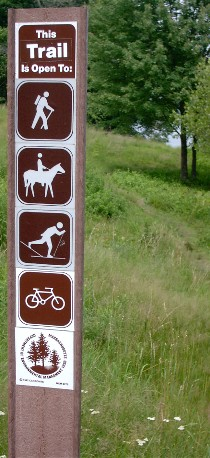 Event Calendar

Unless otherwise noted, all Trails Club events are free and open to the public.

By the way... In case you're wondering (or worried), the pace of our walks is relaxed (like everything else about the Club). We go out to explore and enjoy the trails, and aren't trying to set speed records for completing the routes. We stop from time to time to point out interesting things, or to let folks catch up, or catch our breath, and we make sure no one falls behind.


Sunday, June 24, noon

: Whitehall Woods walk. We'll tour one of the town's newest Open Space properties. The trails wind through a beautiful area, with connections to Upton State Forest. Part of the walk is in a wildlife sanctuary, so no dogs, please. Whitehall Woods is located at 203 Pond Street in Hopkinton. When you arrive, follow the entrance of a new subdivision road on the west side of Pond Street to a small gravel parking lot on the left side of the road. You will see a sign for "Whitehall Woods Trail, Connector to Upton Forest", and an entrance kiosk in front of the parking area. The trail proceeds from the kiosk.



Wednesday, July 11, 7PM

: Monthly Club meeting



Saturday, July 21, 10AM

: Ashland Town Forest walk. Ashland Town Forest and Cowassock Woods is a 616 acres parcel of open space located in Ashland and Framingham. It has a natural wealth of granite outcroppings, upland and lowland swamp, vernal pools, mixed hardwood forest and several open pit quarries, and over 6 miles of trails. We won't walk them all, but it's sure to be an interesting tour. The walk begins at the first parking area on Winter Street (#20 on the map in the link).

There are also a number of other local organizations with interesting trail-related activities. Check them out in the Other Links section on the Links page.