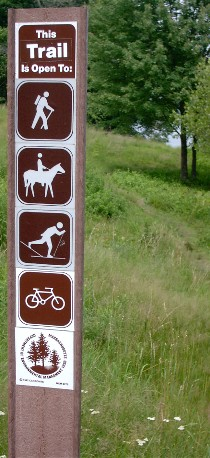 Event Calendar

Unless otherwise noted, all Trails Club events are free and open to the public, and leashed dogs are welcome. And in case you're wondering (or worried), the pace of our walks is relaxed (like everything else about the Club). We go out to explore and enjoy the trails, and aren't trying to set speed records for completing the routes. We stop from time to time to point out interesting things, or to let folks catch up, or catch our breath, and we make sure no one falls behind. There's more information about our walks on the FAQ page.



Walks & Gatherings




Wednesday, October 12, 6:30PM

: Monthly meeting



Sunday, October 23, 1PM

: Annual College Rock anniversary walk. We return to the site of our first walk in 2005. This is an easy ramble through a beautiful woods, starting/ending at an amazing rock wall. A great walk for the whole family. Meet at the parking area opposite 23 College Street.



Saturday, October 29

: Redeemables collection at the Hopkinton Recycling Center (Route 135, Hopkinton/Westborough town line). Bring us your redeemable bottles & cans! We'll turn them into nickels, then turn the nickels into picnic tables, donations, etc.



Saturday, November 5, 9AM

: Monthly trail workday



Saturday, November 19, 10AM

: Legacy Farms North walk. This will be a loop walk, from Legacy Farms North, down to the state park by Cedar Street, along the water's edge to the dam, then back up to the start. We'll walk a mix of trails, sidewalks, and old roads. Meet at the parking area on Legacy Farms North Road, opposite Walnut Way.

Hopkinton town trail committee meetings




Wednesday, October 5, 7PM

: Upper Charles Trail Committee

Wednesday, October 19, 7PM

: Upper Charles Trail Committee

Visit the Hopkinton town website and scroll down to the Events Calendar for meeting locations. Click the "more details" link for the remote link and agenda (may not be available until close to the meeting date). Upper Charles Trail Committee meetings will be broadcast on HCAM TV and HCAM's YouTube channel if the meeting has a remote option (Zoom or Google Meet).



Other


Other local organizations have interesting trail-related activities. Contact the hosting organization with any questions.