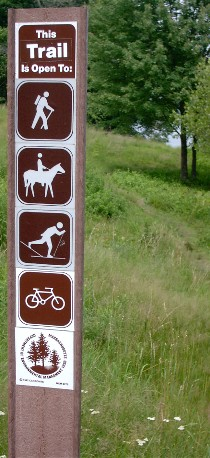 Event Calendar

Unless otherwise noted, all Trails Club events are free and open to the public.

By the way... In case you're wondering (or worried), the pace of our walks is relaxed (like everything else about the Club). We go out to explore and enjoy the trails, and aren't trying to set speed records for completing the routes. We stop from time to time to point out interesting things, or to let folks catch up, or catch our breath, and we make sure no one falls behind.


Saturday, August 26, 10AM

: Betty Fitzpatrick Trail walk. We'll walk the town's newest trail, running from Wedgewood Drive to Overlook Road. Laid out and cleared as a Boy Scout Eagle project, it runs through a beautiful woods, with streams, valleys and rock outcroppings. It will be an out & back walk, giving everyone a chance to see it from both directions! Meet at the trail head on Wedgewood Drive, just before Highcroft Way.



Wednesday, September 13, 7PM

: Monthly meeting



Saturday, September 16, 2-9PM

: Hopkinton Family Day. The start of a new annual tradition! The Trails Club will be there with a table and activities. The events are all at the High School athletic fields.

Friday, September 29, 7PM

: Center Trail moonlight walk. We'll follow the Center Trail from Chamberlain Street to Main Street, return the same way, and then gather at the leader's house for post-walk refreshments and socializing. The walk will begin/end on Sanctuary Lane. Further details to follow later.



Saturday, September 30, 8AM-2PM

: Redeemables collection at the Hopkinton Recycling facility (Wood Street/Route 135, just before the Westborough town border). Come lend a hand for an hour or two, or just bring us your redeemable bottles & cans.



Sunday, October 22, 1PM

: College Rock anniversary walk. Join us as we celebrate our 12th birthday where we had our first walk. It's a pleasant, easy loop walk through a beautiful area.

There are also a number of other local organizations with interesting trail-related activities. Check them out in the Other Links section on the Links page.