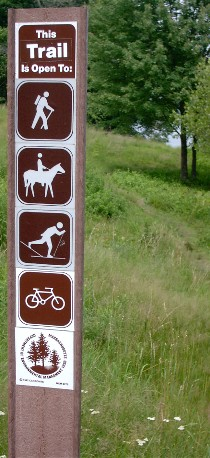 Event Calendar

Unless otherwise noted, all Trails Club events are free and open to the public.

By the way... In case you're wondering (or worried), the pace of our walks is relaxed (like everything else about the Club). We go out to explore and enjoy the trails, and aren't trying to set speed records for completing the routes. We stop from time to time to point out interesting things, or to let folks catch up, or catch our breath, and we make sure no one falls behind. John Muir said it best.


Wednesday, March 11, 7:00PM

: Monthly meeting



Saturday, March 21, 10:00AM

: Peloquin Woods walk. This is one of Hopkinton's newest trails, on property surrounding the Cobblers Way development. While only 16 acres, it borders 70 acres of former Weston Nurseries, now Legacy Farms South, providing a connection to the large Legacy Farms trail network. The property feels much larger than it is because ¾ of the outer perimeter is adjacent to open space with no visible development. Though small, there's a lot to see here. Because of limited parking space available at the property, we'll carpool to/from the trail. Meet/park at the leader's house,

28 South Mill Street

.



Sunday, April 26, 1:00PM

: Breakneck Hill, Southborough. Breakneck Hill is a beautiful area. There are some very nice trails, complete with a fantastic picnic location with a nice view. The property is maintained by the Southborough Stewardship Committee who provides conservation-based stewardship of the land, balancing multiple conservation and passive recreational uses. Meet at the parking area across from 71-73 Breakneck Hill Rd., Southborough.



Wednesday, May 13, 7:00PM

: 4th Annual Hopkinton Town Trails Forum, at the HCAM TV studio (77 Main Street, lower level). Hear updates from Town trail committees & groups, and learn about recent work to map the Town's trails & properties.



Saturday, June 6

: National Trails Day. Stay tuned for details of this year's trail work activity.


Hopkinton town trail committee meetings (at Hopkinton Town Hall). Open to the public.


Wednesday, February 19, 7:00PM

: Upper Charles Trail Committee

Tuesday, March 3, 7:30PM

: Trails Coordination & Management Committee

Wednesday, March 4, 7:00PM

: Upper Charles Trail Committee


There are also a number of other local organizations with interesting trail-related activities. Contact the hosting organization with any questions.