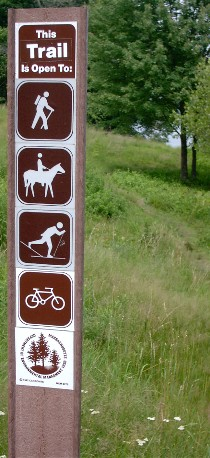 Event Calendar

Unless otherwise noted, all Trails Club events are free and open to the public, and leashed dogs are welcome. And in case you're wondering (or worried), the pace of our walks is relaxed (like everything else about the Club). We go out to explore and enjoy the trails, and aren't trying to set speed records for completing the routes. We stop from time to time to point out interesting things, or to let folks catch up, or catch our breath, and we make sure no one falls behind.

COVID-19 info: Mask requirements have been lifted for those who have been vaccinated.



Walks & Gatherings




Wednesday, July 14, 7PM

: Club meeting (virtual)



July TBA

: Cameron Woods loop tour. New! Improved! Less confusion! HALT has installed new trail markers and laid out a loop route on the Cameron Woods trails, vastly improving the navigation on the paths in Hopkinton's premier open space. Come see for yourself. The walk will begin at the trail head parking area on Whisper Way. We're working on the date/time details...stay tuned!

Hopkinton town trail committee meetings

(at Hopkinton Town Hall, open to the public)


Town meetings are suspended or virtual for now. Visit the Hopkinton town website and scroll down to the Events Calendar for dates/times/Zoom links.

There are also a number of other local organizations with interesting trail-related activities. Contact the hosting organization with any questions.