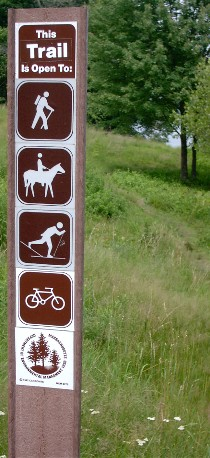 Event Calendar

Unless otherwise noted, all Trails Club events are free and open to the public, and leashed dogs are welcome. And in case you're wondering (or worried), the pace of our walks is relaxed (like everything else about the Club). We go out to explore and enjoy the trails, and aren't trying to set speed records for completing the routes. We stop from time to time to point out interesting things, or to let folks catch up, or catch our breath, and we make sure no one falls behind.



COVID-19 requirements for Club gatherings

:


Masks are required
Distancing of unrelated folks (anyone who didn't come in the same vehicle) will be practiced.




Walks & Gatherings




Wednesday, March 10, 7PM

: Monthly meeting



Sunday, March 21, 1PM:

Whitehall Woods walk. This is a beautiful SVT property, with trail links to a state wildlife sanctuary and Upton State Forest. We'll walk the main trail, and also explore a side loop through the sanctuary that passes the remains of the Hopkinton Stone Mound. If there's still significant snow on the ground (on the first full day of Spring!), this may be another snowshoe walk. Otherwise, boots will do. Dogs are not allowed in the wildlife sanctuary, so

no dogs on this walk

, please. Park/meet at the trailhead on Fox Hollow Road (off Pond Street).

Hopkinton town trail committee meetings

(at Hopkinton Town Hall, open to the public)


Town meetings are suspended or virtual for now. Visit the Hopkinton town website and scroll down to the Events Calendar for dates/times/Zoom links.

There are also a number of other local organizations with interesting trail-related activities. Contact the hosting organization with any questions.