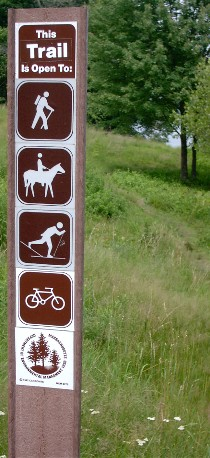 Event Calendar

Unless otherwise noted, all Trails Club events are free and open to the public.

By the way... In case you're wondering (or worried), the pace of our walks is relaxed (like everything else about the Club). We go out to explore and enjoy the trails, and aren't trying to set speed records for completing the routes. We stop from time to time to point out interesting things, or to let folks catch up, or catch our breath, and we make sure no one falls behind. John Muir said it best.

Saturday, November 16, 8:30AM-2:00PM

: Redeemables collection at the Hopkinton Recycling Center (Wood St/Route 135 at the Westborough border). Lend a hand for an hour or two, or just bring us your redeemable bottles and cans to help us raise funds.



Saturday, November 23, 9AM:

Special event! Great Blue Hill hike. We do monthly walks, but there's been interest in something a bit more strenuous. We'll take the Skyline trail, starting at the Park & Ride lot on Route 138, up to the summit loop road, then walk the loop with stops at the Eliot Tower and whatever else interests us before heading back down. The climb isn't very long, but it is quite steep and rugged. The reward (weather permitting) is spectacular views in all directions. The event starts at the Hopkinton CVS parking lot at 9AM, where we'll sort out ride-sharing to get to Canton. Or folks are welcome to meet us at the parking lot. We'll probably arrive around 10AM.



Sunday, November 24, 1PM:

The Hopkinton Area Land Trust and the Upton Conservation Commission are jointly hosting a walk of the Rockwood Meadows conservation area. Rockwood Meadows is a new development that straddles the Hopkinton-Upton town line, and a beautiful new trail has been built through the property that connects to existing trails in the Peppercorn Hill Conservation Area. The trailhead is at a large parking area on the left side of School Street 0.3 miles south of West Main Street.


Saturday, December 7, 10AM-3PM

: Holiday Stroll, sponsored by the Hopkinton Chamber of Commerce. December is busy, so we're skipping a walk and encouraging folks to stroll instead. HALT will be at the Masonic Lodge, along with other community groups, sharing info about the trails.


Wednesday, December 11, 7:00PM

: Monthly meeting.

There are also a number of other local organizations with interesting trail-related activities. Check them out in the Other Links section on the Links page.