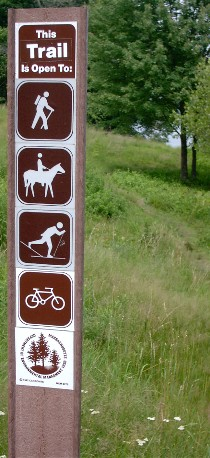 Event Calendar

Unless otherwise noted, all Trails Club events are free and open to the public, and leashed dogs are welcome. And in case you're wondering (or worried), the pace of our walks is relaxed (like everything else about the Club). We go out to explore and enjoy the trails, and aren't trying to set speed records for completing the routes. We stop from time to time to point out interesting things, or to let folks catch up, or catch our breath, and we make sure no one falls behind. There's more information about our walks on the FAQ page.



Walks & Gatherings




Thursday, July 14, 6PM

: Legacy Farms South Trail walk with the Hopkinton Public Library



Sunday, July 24, 1PM

: Whistling Cave walk. Whistling Cave is a cool rock feature within Upton State Forest, along a trail that doesn't get a lot of traffic. The walk will begin/end Pond Street at the southern end of Lake Whitehall, then we'll follow a number of USF trails to get to Whistling Cave, and other trails to get back. There's lots to see along the way in both directions, both natural & historic. Expect a walk of about 2 hours. Meet/park at the pullovers on Pond Street (between 157 and 185 Pond Street).



Saturday, August 6, 9AM

: Monthly trail workday

Hopkinton town trail committee meetings



Visit the Hopkinton town website and scroll down to the Events Calendar for meeting locations. Click the "more details" link for the remote link and agenda (may not be available until close to the meeting date). Upper Charles Trail Committee meetings will be broadcast on HCAM TV and HCAM's YouTube channel if the meeting has a remote option (Zoom or Google Meet).
There are also a number of other local organizations with interesting trail-related activities. Contact the hosting organization with any questions.