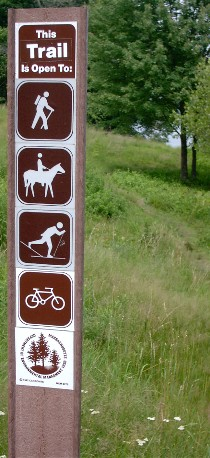 Event Calendar

Unless otherwise noted, all Trails Club events are free and open to the public, and leashed dogs are welcome. And in case you're wondering (or worried), the pace of our walks is relaxed (like everything else about the Club). We go out to explore and enjoy the trails, and aren't trying to set speed records for completing the routes. We stop from time to time to point out interesting things, or to let folks catch up, or catch our breath, and we make sure no one falls behind.



Walks & Gatherings




Saturday, December 4, 9AM

: Monthly Trail Maintenance Day. Center Trail parking area clean-up and boardwalk building. Details are in the link.



Wednesday, December 8, 7PM

: Upper Charles Trail Committee public forum at the Hopkinton Senior Center. We're skipping our monthly meeting so folks can attend this important forum. The UCTC will present their proposal for Hopkinton's portion of the Upper Charles Trail and seek feedback from residents. The Trails Club has developed an alternative proposal for a portion of the route. Please review both proposals, attend the meeting, listen, and offer feedback.



Sunday, December 12, 1PM

: Mighton Woods walk. We haven't been back on these paths in a while. It's a special area, nestled in the heart of neighborhoods, yet it feels remote. The trails wind over gently rolling hills, through pine forests, stands of oak, and fern glades. We'll start at the trailhead on East Street. Park at the North Mill historical site a few hundred feet up north on North Mill Street.

Hopkinton town trail committee meetings

(at Hopkinton Town Hall, open to the public)


Many Town meetings are suspended or virtual for now. Visit the Hopkinton town website and scroll down to the Events Calendar for dates/times/Zoom links.

There are also a number of other local organizations with interesting trail-related activities. Contact the hosting organization with any questions.