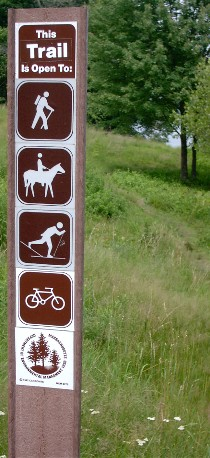 Event Calendar

Unless otherwise noted, all Trails Club events are free and open to the public.

By the way... In case you're wondering (or worried), the pace of our walks is relaxed (like everything else about the Club). We go out to explore and enjoy the trails, and aren't trying to set speed records for completing the routes. We stop from time to time to point out interesting things, or to let folks catch up, or catch our breath, and we make sure no one falls behind. John Muir said it best.


Sunday, February 9, 1:00PM

: Town Forest trail walk. We'll explore Hopkinton's Town Forest, 112 acres of beautiful forest, adjacent to Cameron Woods and Whitehall State Park. There's nature, history, and a great trail to follow. The walk (about 2 miles) begins/ends at the leader's house, 11 Erika Drive. Park along the street.



Wednesday, February 12, 7:00PM

: Monthly meeting



Saturday, June 6

: National Trails Day. Stay tuned for details of this year's trail work activity.


Hopkinton town trail committee meetings (at Hopkinton Town Hall). Open to the public.


Tuesday, January 28, 7:30PM

: Trails Coordination & Management Committee

Wednesday, January 29, 7:00PM

: Upper Charles Trail Committee


There are also a number of other local organizations with interesting trail-related activities. Contact the hosting organization with any questions.


Saturday, January 25, 1PM

: (Hopkinton Area Land Trust) Birds of Prey Demonstration at the

Hopkinton Public Library

. Come see a presentation by Kathleen Regan of Mass Audubon on Massachusetts birds of prey, including live birds up close. This program is jointly sponsored by HALT and the Hopkinton Public Library.

Space is limited

– sign up at the library is required!



Thursday, February 6, 10AM

: (Hopkinton Senior Center) - Easy Walks in Massachusetts talk at the

Hopkinton Senior Center

(28 Mayhew Street). Come learn where you can find easy walking trails, great rail trails, beautiful views and short walks to sweeping vistas along the Upper Charles, Neponset River and Assabet River watersheds. Local author and Bellingham resident Marjorie Turner Hollman will present a slideshow of photos and share some stories about areas included in the 2nd edition of her book, "More Easy Walks in Massachusetts," a walking trail guide to 50+ trails in 15 contiguous area towns in south central MA, including multiple trails in Hopkinton. Learn how to find great places to walk in Hopkinton as well as other towns "right around the corner" from where you live. She will also share a few slides from walks included her "Easy Walks in Massachusetts, 2nd edition." This book offers the same format about trails in an additional 16 contiguous towns west of Hopkinton. The walks in these books are all parent, grandparent, and kid-friendly, some are handicapped-accessible, and many are dog-friendly. Books are $20 each and will be available for purchase after the event. Payment via check or cash. In the event of a snowstorm, the talk will be held on Thursday, March 5, at 10AM.