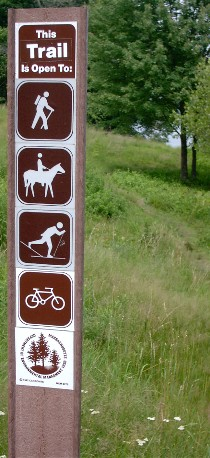 Monthly Workday

In partnership with Hopkinton's Trail Coordination & Management Committee, the Trails Club is running a trail maintenance workday on the first Saturday of each month. The work will vary depending upon the needs at each site: trail clearing, cleaning out drainage ditches, removing invasive plants, and more.

Participants will need gloves and sturdy footwear

, and tools appropriate for the work to be done.

This is a great opportunity to give back to the trails you love. Each workday lasts just a few hours, and you'll be with a fun group of people. By the way, if you're a student or Scout in need of community service hours, this qualifies!

One more thing: If you have a suggestion for a trail that needs work, or know of a specific issue to be addressed, send us an email.



Next workday





Date

: Saturday, April 1


Time

: 9AM-noon


Location

: Center Trail


Meeting/parking location

: Claflin Place parking area


Work to be done

: Clear drainage ditches along the trail


Tools

: Rakes, hand clippers, loppers, small hand saws

Each year we clear the winter debris (leaves, sticks) from the drainage ditches along the Center Trail so they can continue doing their job of keeping storm water off the trail. This helps prevent erosion, extending the life of the trail. Rakes are the most useful tool for the work. Waterproof footwear is a good idea as well, and gloves are essential.