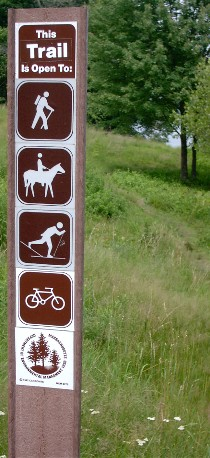 Welcome!

The Hopkinton Trails Club is a volunteer group of area residents dedicated to enjoying and enhancing the existing trails in Town while promoting the creation of new trails and improving trail connections throughout the Community. The group has a monthly meeting, organizes walks at least once each month, and participates in trail maintenance activities. The Club encourages residents to get involved in enjoying these resources and participating in club efforts.


Announcements:

Many thanks to Marjorie Turner Hollman for a great talk about finding fabulous foliage. Watch HCAM for the broadcast soon. For the next Trails Club activity, check out the Events page.


Speaking of foliage, the Whitehall Conservation area off Wood Street is an awesome place to view the fall colors.


Ken Parker led a great exploration of the trails around Legacy Farms. Pictures have been posted.


The Upper Charles Trail Committee has posted two reports prepared by the Conway School of Landscape Design. They're an important step in the process of developing Hopkinton's portion of the Upper Charles Trail, so give them a read.


The Trails Club turns 10 years old this fall. Hooray for us!


Are you on our email list? If not, you can subscribe here.